"Artists—real artists, serious artists, memorable artists—work not in oils and watercolors, clay and stone, verbs and nouns and harmonic vibrations from reeds and strings, but in emotions. Artists paint and sculpt, write and sing, finger the necks of a Stradivarius or a Stratocaster using passions so visceral our ancestors knew them only as Magic. And Magic is exactly what I feel when looking into an Adriano Manocchia painting."
James R. Babb, Editor, Gray's Sporting Journal
Fine Art Oil Paintings
"I'm haunted by waters..."
From A River Runs Through It by Norman MacLean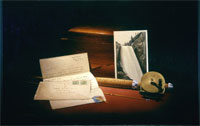 In his fine art paintings, there is no doubt that Adriano Manocchia is fascinated by water. His landscapes often become waterscapes, their focal point, an ever-changing fluid mass portraying many different moods and nuances. Where water is not the subject, light becomes the drama. The saturated colors of fiery sunsets, the delicate tones of soft sunrises, the powerful shadows of impending storms transform an otherwise tame landscape into a striking work of art.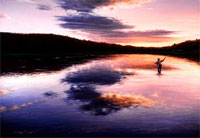 Through our site we hope to offer you a glimpse into the world of this highly praised fine art artist. Please have a look around the web site and the selection of Adriano's paintings in the online galleries. While many are already in private collections, they are a sample of the genre and style that have made Adriano one of the top artists today. Feel free to contact us with any questions you might have, or if you are interested in acquiring or commissioning a fine art painting.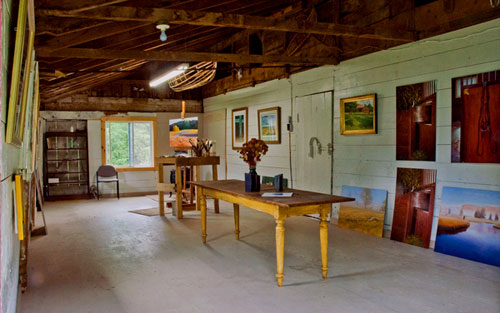 As I'm spending my days painting in my Summer studio, I started thinking that you might want to take a peak at my creative space. I love working in this part of my historical barn that I've been restoring a little at a time. This spacious room affords me the opportunity of working on larger paintings and surrounding myself with some of my favorite antiques.
If you find yourself traveling in this area, why don't you stop by and check it out in person? Just let me know before you get here and I'll make sure to be at the studio to greet you. —Adriano
Water, Sky & Time
30 Years of Sporting Art & Landscapes by Adriano Manocchia
The art of Adriano Manocchia, a painter you have come to respect as a master of sporting art and contemporary realism, is the subject of a collectable art book entitled Water, Sky & Time. This project took years of work and preparation to complete, but the end results exceeded all of our expectations. We would like to invite you to explore with us this fascinating journey into the creative life of this beloved artist through the pages of his book.